Heating Oil Delivery
Reliable heating oil deliveries in Rhode Island and Southeastern Massachusetts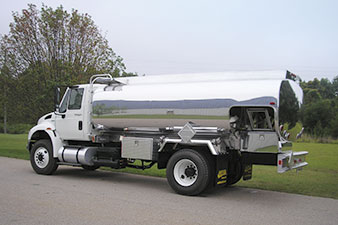 When it comes to heating oil for your Rhode Island or southeastern Massachusetts home, sometimes you just want to keep it simple.
You just need quality heating oil at the best price you can get. And that's where Discount Oil Brokers comes in.
When you are looking to save money on your home's heating oil costs, Discount Oil Brokers is the heating oil supplier to count on for dependable service.
No extras fees and nothing to hide
Our name says it all—we're all about discount oil.
Being a local family-owned business for more than 35 years means we're in tune with what our customers need. We know that when you're looking for discount oil, that's what you want. By focusing on just delivering home heating oil to our customers in Rhode Island and southeastern Massachusetts and nothing else, we're able to offer outstanding home heating oil prices.
And we back up our claim on outstanding heating oil prices every day. Any time you come to our website, you will see just how outstanding our home heating oil prices are as our daily discounted price is posted there on our home page.
With our low home heating oil prices, we offer cash-on-demand (COD) delivery. You pay for your home heating oil when we deliver it. But you also have the option of paying by cash, debit card or credit card.
We don't skimp on quality to provide you with affordable heating oil. You'll be getting HeatForce™ Home Heating Oil. And while we don't offer automatic heating oil delivery, you can get your heating oil delivered between one and three days, depending on where you live.
Because of our parent company Wesco Oil, the drivers who delivery home heating oil for Discount Oil Brokers are experienced and can make sure your oil is delivered safely and in a timely matter. And we are also able to offer burner cleaning with certified technicians from Wesco Oil.
If you are looking for a full-service heating oil supplier, we can help you upgrade to a new Wesco Oil account.
Important delivery information
100-125 gallon minimum delivery (depends on area)
cash, credit card, debit card or money order accepted
same-day service in most areas
COD delivery information
COD payments help us maintain low prices
premium heating oil helps reduce service calls
dependable and reliable delivery service
courteous staff and drivers
experienced professional service
Heating oil: Cleaner, greener and more efficient
What makes heating oil the right choice for your home in Rhode Island or southeastern Massachusetts? Think about a really cold day in our area. Think about coming home after work. All you want to do is to get warm and get warm fast.
And that indoor comfort is what a heating oil home heating system gives you. It gets your home warm faster than any other type of home heating system. Heating oil burns up to 20% more efficient than gas heat and up to 30% more efficient than electric heating.
Over the years, heating oil has become more clean-burning. And that, combined with improvements that have made oil heating systems more efficient, is the reason you can heat your home with little or no emissions when you use heating oil.
Contact Discount Oil Brokers today and take advantage of our great savings on home heating oil!